Home of the Vess's in Vinton, VA
This was an enjoyable job on recently Faux-Finished walls.
The homeowner, along with assistance from family members did a great job on the Faux Finish.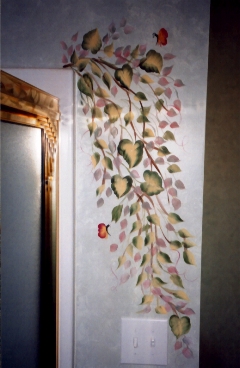 By The Shower Door In A Large Master Bath Area.
I like to make niches in unexpected places.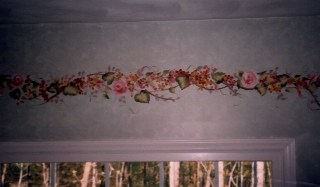 Border Above Large Window In The Garden Tub Alcove
The colors are warm and enviting - A perfect place to relax.....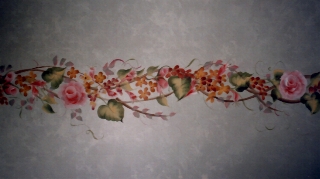 A Closer View Of The Above Photo
Note the beautiful faux finish...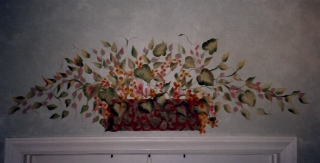 Often The Top Of A Door Frame Is Just
Enough Space To Paint A Nice Sized Image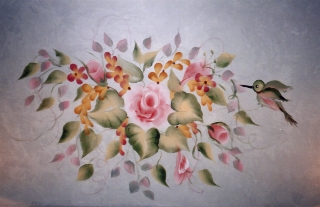 This Image Stands Alone Between Two Light Fixtures
Above the Double Sinks.....
This image represents the entire color scheme for the room
and is complimented by the most impressive dressing area of this master bath.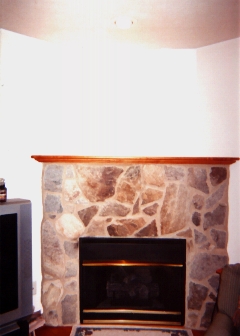 My Sister Sandy's Fireplace
I owed her this one - Big Time!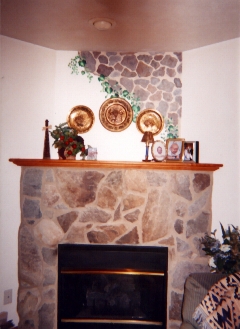 This Was A Challenge!
I was able to create a break-away by painting to match the grout or concrete between the stones.
Next, I mixed paints and applied with brush to match the real stones in her fireplace.
Lastly, I added some ivy for a touch of color.